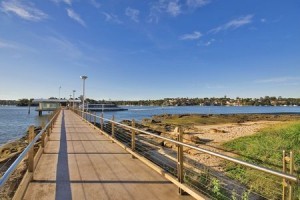 This suburb is known by an Aboriginal word meaning, appropriately "by water". Part of the suburb was originally granted in 1775 to David Anderson, a private soldier in the New South Wales corps. The grant was described as being at "Cabarita Point at the upper part of the Harbour."
Cabarita Park, a pleasant picnic area on Cabarita Point, was known as Correy"s Gardens in the 1880s. This part of the river was the venue for early regattas, including the GPS School "Head of the River before the races were moved to the Nepean River. Here you will find a monument to William Beach 1850 to 1935 Undefeated Champion Sculler of the World.
The park was dedicated for public use in 1880. The pavilion from which the Earl of Hopetoun, the governor-general proclaimed the establishment of the Commonwealth of Australia in 1901 was later moved from Centennial Park to Cabarita Park. There is also a Victory Coppice planted 25th August 1945 as a reminder of the gratitude of the Concord Community.
Cabarita was once linked to Burwood station by tram; the tram is now gone and replaced by buses. There is a regular and enjoyable Rivercat that runs between Parramatta and Circular Quay. The park was popular for family picnics and still is. There was also a segregated swimming pool, with one half for men and boys, the other for women and girls. Husbands and wives, as well as lovers, would lean on the dividing fence for a chat as the water swirled around their legs.
France Bay, Exile Bay and Canada Bay, adjacent to the park commemorate a group of fifty-eight French-Canadian exiles. After 1838 rebellion in Canada these prisoners were sent to New South Wales and held in the Longbottom Stockade on Parramatta Road in Concord at which time the three bays received these appropriate names.
The area was mostly small factories and workshops that grew up in the shadow of the massive gasworks that covered the area now known as Breakfast Point. These businesses have now gone and been replaced by high quality units and townhouses, many with water and city views. The older established properties that are water front are keenly sought after for their generous land blocks and spectacular views. From being a noisy industrial zone the area is now one of the most pleasant and keenly sought addresses in the Inner West.