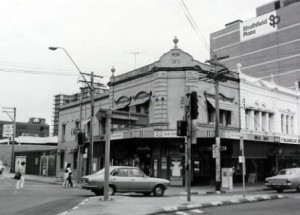 The suburb, extending from Concord to Cooks River, was part of the area known as Liberty Plains, so called because the first free settlers received grants there. In 1877 when a railway platform was erected it was renamed Strathfied in 1885. A station was built on a new site in 1900, and yet again in 1922. In 1885 the area was incorporated as Strathfield. This new title came from the name of a mansion built in the district by John Hardie, a wealthy early settler, who chose the name to honour the English estate give in 1871.
Other magnificent homes were built in the area last century. Albert House in Albert Road was erected by the Hordern Family in 1885; Mount Royal, now known as Mount St Mary's was built by John Hinchcliffe and later acquired by Sir George Reid, one- time premier of New South Wales and prime minister in 1904-1905. The Boulevarde, Strathfield, became a thoroughfare associated with elegance and in living. Remnants of those days still remain, although the residents are their lives have changed.
Santa Maria del Monte Convent is on the area's pleasing reminders of times past, as is Santa Sabina Convent with its beautiful chapel. Santa Maria del Monte was built in 1885 by William Spence Brunton, a colonel in the Light Horse. It passed through several hands and it was a Mrs Bailey who changed its name to Del Monte. In the 1950s she left the house to the Sisters from the Dominican convent of Santa Sabina, opposite her house, as they had nursed her through a severe illness. Today the house is used as the junior school for Santa Sabina College. Santa Sabina College was, in 1870, the home of Charles Pilchers who took a major part in the anti-Federation debate. Another well-known property, originally in 1890 by Charles Hoskins, changed of George Adams Hotel in Sydney, famous for its Marble Bar. A former Cobb & Co driver he had a family of several daughters, all of whom attended Santa Sabina College. Illyris eventually became the property of the school and was renamed Holyrood House. For some time it was the living quarters of the Dominican sisters.
A public school opened in this suburb in February 1881, with the name of Druitt Town, the area on the Liverpool Road having been named after Major George Druitt, a friend of the owner, Judge Josephson. The name was changed to Strathfield South in January 1893. The official post office, which is known as Redmyre in 1881, became Strathfield in 1886. Strathfield's first mayor was George Hardie, who held that office for one year in 1885.
In North Strathfield land was purchased in Concord Road from Yaralla Estate of Thomas Walker, and a public school at first known as Yaralla School, was built. It later changed its name to North Strathfield Public school. North Strathfield today contains a splendid golf links, a busy shopping centre, and a row of retirement houses built by Dame Eadith walker for her staff. The walker land stretched from this part of North Strathfield through to the Parramatta River.
When the line from Strathfield to Hornsby was completed in the 1920s, Strathfield became the junction of all trains going north and west. Today Strathfield remains an attractive residential area, with many houses set in spacious gardens. There is only a small shopping centre near the station, but the area is close to the major shopping centre of Burwood.