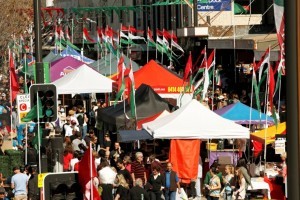 The suburb is named after a farm that covered the whole of the peninsula west of the city on the southern shore of the Parramatta River between Iron Cove & Hen and Chicken Bay. It was so named because of five rocky inlets, or docks, in the bay. They are no longer all visible since three of them were affected by the construction of the southern approaches on the Gladesville Bridge. The name was perhaps known as early as 1797 and was certainly in use by 1805.
Five Dock Farm was the name given to his 1,500 acre grant of 1806 by Surgeon John Harris. Seven earlier grants had been made in the area, but they had been reverted to the crown by the time Governor King made the grant. Five Dock farm spread over the site of the present-day suburbs of Abbotsford, Drummoyne, Chiswick & Five Dock.
The 1828, Surveyor- General Sir Thomas Mitchell marked out a new line of road, passing through Five Dock Farm, which was to become the Great North Road; part of it retains that name today. When the convict gangs began work, the whole area was covered with trees and bush, but the land was cleared and the road eventually constructed from the junction with Parramatta Road, running north towards the present day – Abbotsford.
In 1836, Dr Harris sold Five Dock land to Samuel Lyons, the leading Sydney auctioneer of the time. He in turn subdivided the land into 30 and 60 acre allotments, allowing for the construction of large residences. Lyons Road, Five Dock commemorates him. Later occupants of the area of Five Dock Farm gave their names to parts of the district. Rodd Point was named after the Rodd family, who built Barnstaple Manor there n 1845. Russell Lea was named after the property of Russell Banton, a pastoral and mining magnate who bought the 60 acre property of C/ Abercrombie. Erina Avenue, a short cul-de-sac near Five Dock Park, was named after a fine residence known as Erina House, owned by an outstanding legal man of his day, Peter Faucett. Born in Dublin, Faucett came to the colony in 1852. He was solicitor-general from 1863 until 1865 and made Erina House his home. The house, which as now been restored, was surrounded by spacious grounds, including a vineyard.
Five Dock retained its rural character longer than neighbouring Drummoyne, as the 1880s land boom concentrated on the areas around bridges and main roads. In 1871 it was incorporated as a municipality and in 1901 was amalgamated with Drummoyne/ During the 1920s the suburb became popular with young couples when further subdivisions enabled them to build attractive brick homes. Trams ran direct to the city. The fifty minutes journey cost four pence. Today the suburb is busy with cars and buses, but the charm of the bay with its access to the Parramatta River has not been totally lost.