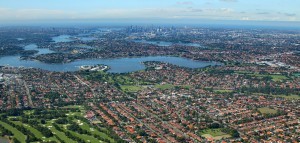 The area was explored by men from the First Fleet 1788, when the lieutenant- governor, Major Francis Grose, made the land grants to six non-commissioned officers of the New South Wales Corps and four other settlers, in an area he named Concord.
Some think it was so named to encourage a peaceful attitude between soldiers and settlers, but the name has an historical significance. During the American War of Independence, the town of Concord was the site of the first battle. Among the British soldiers taking part as an advance guard was 21-year-old Francis Grose. Years later he was in the penal settlement of New South Wales, and he named the newly opened grant Concord.
In 1791, at a place called Long bottom, a stockade was built on the Parramatta Road. The trip between Sydney and Parramatta was too long to be completed in one day, so the stockade was essential protection for overnight stays. Prisoners were detained here for the night on their 24 Kilometre trek from Sydney to Parramatta or vice-versa. Convict road gangs were housed in the original buildings and a small detachment of mounted police was stationed there. It closed in 1842.
A number of well-known colonists were associated with Concord's early history. In 1797 Isaac Nichols added further properties until he held 600 acres in the district. He called his estate Yaralla. The land was gradually sold off in the 1830's.
Thomas Walker, a merchant, amassed a huge fortune and in the 1840s he bought Isaac Nichols land at Concord. He gave the mansion he built on it in 1864 the name Yaralla, after the old property name. Walker had only one child, Edith, who became an untiring worker for charitable causes, and she was created a Dame of the British Empire in 1928. Thomas Walker's will had set aside $10,000 to establish and maintain what is now the Thomas Walker Convalescent Hospital in Concord. The Dame Eadith Walker Convalescent Home for Men was established in her old home, Yaralla.
Noted men gave their names to streets in Concord. Henry Brewer, a midshipman on HMS Sirius, had one of the first grants in the area and became provost-marshal of Sydney Cove, is remembered by Brewer St, Correy's Avenue immortalises Mr Correy, an early alderman, Brays Rd commemorates the first Mayor, Alfred L. Bray and it is thought that Majors Bay Road refers to Major Francis Grose.
On 11th August 1883 Concord was proclaimed as a municipality. Concord West opened up when the northern railway line went through from Strathfield to Hornsby. Until then it had been part of Concord properly. The construction site of the station was known as Brunswick Park, but when the station was opened on 1 September 1887 it was called Concord. As this part of Concord expanded, it was decided to change the name of the station to Concord West, and this was officially recognised in June 1909.
Today Concord is one of the most desirable suburbs of Sydney's Inner West. Many of the fine old houses have been renovated, and extended to cater for today's need for space. Some of them have been replaced by architecturally designed modern luxury homes. Majors Bay Road shopping strip has become the Champs Elysees of the Inner West. The street is wide and tree lined and comes alive at night with strollers socialising and frequenting the many fine restaurants and cafes.