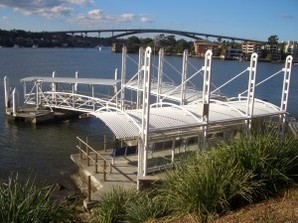 The small suburb between Abbotsford & Drummoyne is surrounded on three sides by water of the Parramatta River and Abbotsford and Five Dock bays. Originally it was part of Five Dock Farm, but in the 1850s a Dr Fortescue owned an estate in the area, which he had called after a village west of London on the River Thames.
Chiswick takes its name from this property. At that time many fine homes were built, and the suburb took on the elegance of the Victorian era.
Some of the streets recall people associated with early Chiswick. Fortescue Street immortalised the doctor himself and Chiswick Street, his estate; Bortfield Drive honours Fred Bortfield, who was an alderman of the Drummoyne Council for eighteen years. Bortfield, a Drummoyne newsagent, served in both world wars as a sniper in Scots Guards in the First World War. He was awarded the Albert Cross, a Belgian decoration, for gallantry. He did not actually receive this award until sixty years after the action that merited it. In the Second World War he served as an officer in the RAAF.
The suburb still retains a delightful air of old world charm, even in an age of rush and bustle.