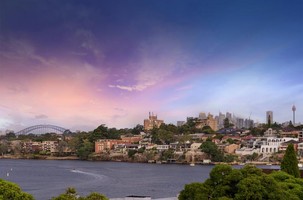 The name of this suburb has a literary flavour. It was named after the village of Abbotsford where Sir Walker Scott, the famous nineteenth century English poet and novelist, lived. The village is near Melrose Abbey on the River Tweed, and Scott immortalised the abbey by moonlight in one of his poems. Scott was a prolific writer who worked at his craft to pay off personal debts. He was known in his home village as the Laird of Abbotsford.
Abbotsford was first known by the Aboriginal name Bigi Bigi. The suburb was part of Five Dock Farm, and, on subdivision in 1837, was called Feltham. When Sir Arthur Renwick, a doctor. Philanthropist and cabinet minister built his home there in 1890, he called it Abbotsford in honour of Scott's home, and later the district took this name.
Renwick sold the property in 1903, and it was later acquired by Nestle, the chocolate manufacturers, for a factory site. The house became the administrative offices. In 1987 Jennings Industries Limited was granted approval to develop the site for prestige office blocks. Abbotsford House is to be refurbished and the waterfrontage will remain a park.
Another event of significance in the suburb was the death of the Australian Poet Henry Lawson (1867-1922) in Abbotsford House on 9 September 1922, when Lawson was 55. He is commemorated by Henry Lawson Park & Henry Lawson Avenue, Abbotsford.
The Great North Road marked out by Major Thomas Mitchell in 1828, continuing north from Five Dock, reached the Parramatta River at Abbotsford. From 1831, from that point, a punt remained the only way to cross from the Five Dock Peninsula to the northern bank of the Parramatta River. The first Gladesville Bridge, began in 1878, changed this. The second Gladesville Bridge, built in 1964, carries hundreds of cars and trucks daily across the river in to Abbotsford and beyond. It is a suburb piece of bridge design especially high to accommodate the colliers that supplied the gas works at Mortlake.
Abbotsford's boundaries are Chiswick to east, Hen & Chicken Bay to the west & Five Dock to the south.
Today Nestles and all the other industries have left Abbotsford and it now a highly sought after suburb with fine house and new unit developments many with water views